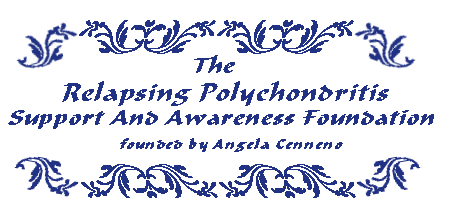 Mission Statement
Welcome to the Relapsing Polychondritis Support and Awareness Foundation Web Site.

Our goal is to aid those with Relapsing Polychondritis (RP) by providing
information to help each person improve their own life through education, understanding and sharing.

Our members support efforts to educate RP caregivers, family and the
public about this rare and orphaned disease. In the process of becoming a non-profit organization, the foundation provides emotional and informational support to individuals and families challenged with RP and aids the search for Relapsing Polychondritis' cause and cure.


Definition of RP goes on next page
How the foundation came about or how it is coming along etc. goes on another page
Founding Members goes on another page with an explanation of why you started it.
The material provided by the Relapsing Polychondritis Support and Awareness Foundation is for information only and should not take the place of advice or guidance from your own health-care providers. Be sure to check with your physicians before making any changes in your treatment or medication.

Site created and maintained by Judi Burch. Contents are not to be reproduced or used in any other publication without the express consent of the RP Board of Directors.

04/28/00